Hexagonal Wire Mesh, Gabion Box, Woven Mesh, Electro & Hot-dipped galvanized Mesh
1. Introduction & Material
- Hexagonal Gabion Box is known as by different shape of gabion box,gabion basket, gabion wall, gabion mattresses, etc. It is hexagonal wire netting and can be finished by hot-dipped galvanized, galvanized aluminum alloy or PVC coated.
- Low carbon steel wire, Galvanized Wire, Pvc Coated Wire, Stainless Steel Wire, etc.
2. Features
- Hexagonal Gabion Box is economical and easy to use
- It offers great thermal insulation, corrosion resistance and has a service life for more than 20 years
- It can be used in adverse weather
- Simple construction, requiring no special technique
- The hexagonal wire netting can be rolled up for higher space efficiency, which contributes to lower shipping costs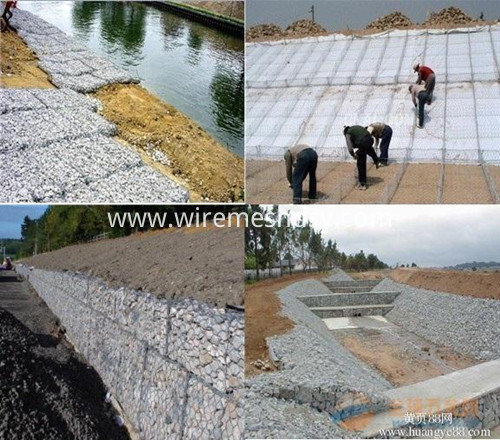 Weaving Types:
- Normal twist, Reverse twist, Normal and Reverse twist together
- Galvanized after weaving, galvanized before weaving, stainless steel and PVC coated
3. Applications
- Hexagonal Gabion Box provides protection and heat insulation function in the form of boiler cover, slope protection mesh, residence Fence, poultry fence, garden fence, etc.
- Widely popular in the construction, chemicals, breeding and other industries
4. Specifications of Hexagonal Gabion Box
Materials:Galvanized iron wire or stainless steel wire
Weaving:Straight twist, reverse twist, double twist
Characteristics:enjoys firm structure and flat surface.